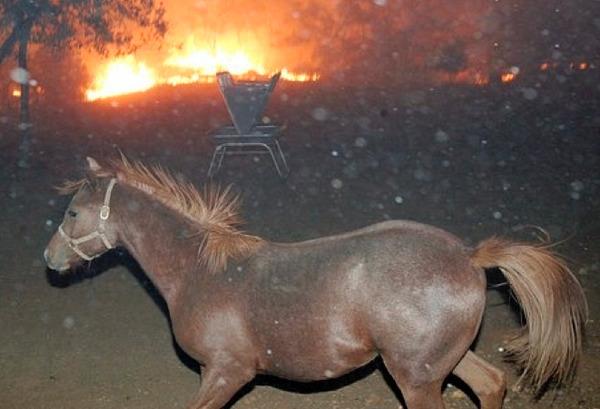 My heart has hurt to see pictures of frightened horses fleeing walls of flame in the Valley Fire in Lake County, CA, as well as surrounding Sonoma and Napa counties. The fire has now burned 73,700 acres, and is just 35% contained at this writing.
My mind has boggled to imagine how animals would flee such a massive and rapidly jumping fire: Could they run or fly that far?
Last year, I sat in the countryside of Middletown, and listened to the symphony of birdsong, a weaving of spirit through the landscape, from grasses to bushes to trees that are habitat to a multitude of animals.
It lead me to consider that we ourselves have had a hand in animals of all kinds losing their homes in the Valley Fire and fires all across California and the West. With the larger cause of the drought our own human-caused climatic impacts, our failures have resulted in the robbing of home to all sorts of animals, human, equine, ornithological.
I wince to consider the tree homes of the woodpeckers I heard pecking last year: Which trees will they lodge in now?
The New York Times reported
on a coordinated, local effort to rescue livestock. Some stayed behind in the
fire to save their animals
as we see in "Trio Saves Horses From Worst Of Valley Fire" by CBS Sacramento.
I reached out to my friend, equestrian heroine Alison Martin, asking how I could help animals affected by the Valley Fire. She put me in touch with Sonoma Equine Rescue Rehab And Adoption. Though their name indicates a Sonoma county affiliation, they are rescuing horses from the Valley Fire, 200 at present, with more coming in each day.
Until these rescued horses are reunited with their owners, the horses need to be fed. SERRA is appealing for donations of hay to feed the rescued horses. They write: "Supplies are few!" I just donated.
You may donate here
to help the rescued horses of the Valley Fire.